OWL Membership
is just $30/yr.
and includes
all meetings,
contests
(entry fees
are separate)
and online classes.


Fall 2022 Newsletter ************

Click Here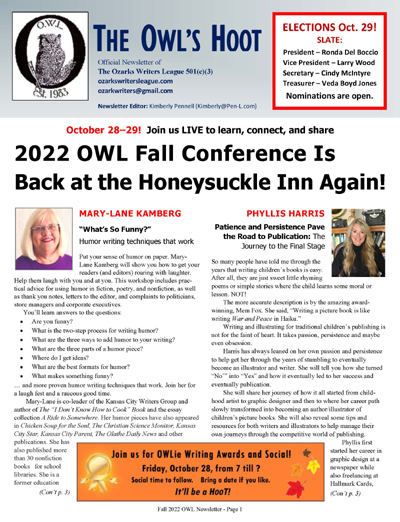 Around the first of each month, we post members' news of sales, acceptances, contest wins, and other writerly good news.

Send a brief notice to me, veda@vedaboydjones.com, by the 25th of each month about your news. I'll send them to our webmaster to post on the website, where they will remain until the following month. Remember, the deadline is the 25th of each month.

To keep it simple, write your news in third person, such as (forgive the ego moment): "Veda Boyd Jones sold a short story, "The Mistletoe Caper," to Woman's World—issue dated December 26, 2022." If you've sold a book, be sure to mention the publisher and when the book will be released.

Our goal is for members to develop a community of writers who celebrate and are inspired by each other's good news.

Kudos away!
For all writers, no matter where you live!


Your OWL President,
Ronda Del Boccio!