John Crawford won big at the Massachusetts State Poetry Society poetry day contest. He earned a first, a second, and two third places. In the National Dancing Poetry contest, he won third place. At the Poets Roundtable of Arkansas' annual contest, he won two First Honorable Mentions and one Second Honorable Mention. In addition, he earned First Honorable Mention at the National Federation of State Poetry Societies in Des Moines, Iowa, and an Honorable Mention in the humor category in the Ohio Poetry Day contest.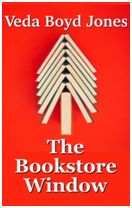 Veda Boyd Jones had a chapter of her MFA master's thesis accepted as a short story ("June 14, 2005") in Military Experience and the Arts. It will be in the November 11th issue. Her Christmas novella, The Bookstore Window, is available on Amazon.

Veda also sold a romance short story, "A Festive Feast," to Woman's World. It will be in the November 20th issue that hits checkout lines on November 10th.
Linda Laughlin was the guest at the October 26th Authors in the Afternoon session at the Main Library in Fort Smith where she signed her book, How Wise Old Owl Got His Name.

Margarite Stever attended the Ozark Creative Writers Conference in Eureka Springs, Arkansas, where she placed in six writing competitions. She won 1st Place in the much-coveted Oxbow Award, 1st Place in Steamy Romance, 1st Place in Historical Romance, 2nd Place in Travel Article, 3rd Place in Space Journey, and First Honorable Mention in the Grand Conference Award. She signed copies of her books, Sally's Secret Legacy and Moonbeams and Ashes, at Always Buying Books in Joplin on October 21st.

Lonnie Whitaker won first-place in the Newspaper Article category in the Missouri Writers' Guild annual contest.

Diane Yates celebrates the launch of Love's Fate, the 3rd book of the Fate Series, published by IHeart Publishing. Screenwriter Alan Roth is in the process of writing a pilot based on Yates' Pathways of the Heart and All That Matters, with hopes of turning the two books into a series. Diane's Christmas novella, Christmas on the High Seas, was re-released by IHeart Publishing.

For a list of all the winners of the annual OWL contests, see the contests tab on our website: ozarkswritersleague.com/2023-writing-contest-winners.php. Congrats to all the winners.